Request Demo
Drop us your details we will get back to you soon!
Why banking sector need CRM for balancing the work culture?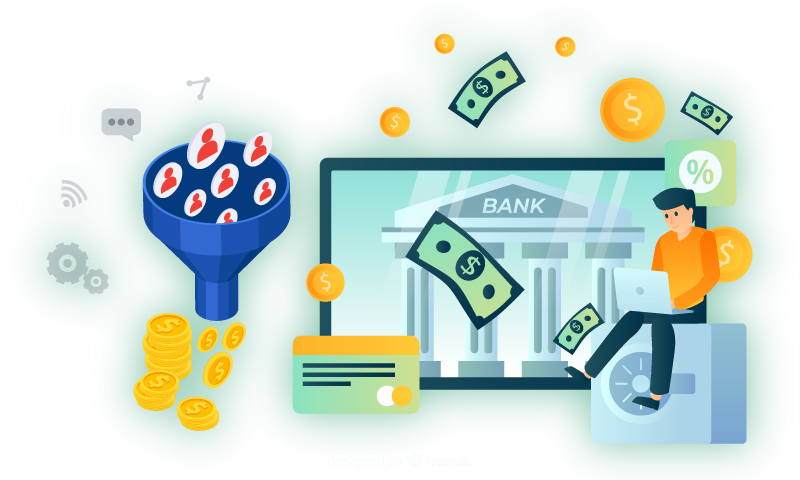 Banking businesses need to establish a perfect work culture among the different tiers of employees. Sales executives need to find potential leads every day and treat existing customers with attractive offers. Hence, it is necessary to empower employees with accurate business infrastructure to perform better in business activities. Managing employees and customers with equal preferences can boost sales opportunities. However, it is not that easy to attract customers, especially in the banking sector, as it experiences a high level of competition in the industry. But you can easily face this scenario with excellent business tools like sales tracking CRM software for the banking sector.
Sales management app for banking employees can support sales employees to treat customers knowing their needs and preferences. CRM for the banking sector provides full customer support responding to their queries on time. Also, CRM in retail banking is a good business tool that can visualize the entire sales funnel in real-time for enhancing business growth within the prescribed time slot. Do you interested to learn more about how CRM helps in maintaining a balanced work culture? Let's scroll down and see!
Lead interaction and conversion
Businesses can't survive without potential leads as they are the key source of future business operations. The lead management feature of the banking CRM system can support sales executives in a great way. With the help of this system, employees can capture leads from various sources, and they can access their complete details from the lead pool. Having a thorough knowledge of the customers makes easy lead conversions offering personalized services at the right times.
Enhanced communication with customers
Having proper business communication with customers is needed for enhanced sales and business opportunities. Industry-specific sales monitoring app for the banking sector introduces features to support customer communication. Sales tracking software stores all customer details at the central database to ensure the availability of information at all times. Using this information in hand, sales executives can make seamless interactions with customers. Sales representatives can suggest the best products or services in real-time and address customers' queries with the instance. Addressing customer needs at times increases customer loyalty. A loyal customer can be the best marketer of your services too.
Rearrange banking processes
The sales tracking app is a business tool with adequate features that manage the sales pipeline systematically and organized way. It can automate repetitive business tasks and support employees in reducing their efforts, and save more time for other productive business tasks. CRM software for banking services can track employees in the field operations and update the workflow for better collaboration of team works. Also, sales managers can have a 360-degree overview of business performances in real-time that can be beneficial to streamline business operations systematically.
Features of banking CRM ensures that your customers are treated with great services and your employees are provided with excellent support to coordinate business tasks. Sales CRM software organizes business activities and manages the sales pipeline closing all the loopholes. Its automation features empower employees by reducing their efforts, saving more time. Access to business information assists the sales executives in managing customers on time. If your customers win by finding potential leads, then there emerges a frictionless work culture. Make more loyal customers and establish a topmost position in the industry.