Request Demo
Drop us your details we will get back to you soon!
Three pandemic challenges for the manufacturing industry and how to solve them with CRM?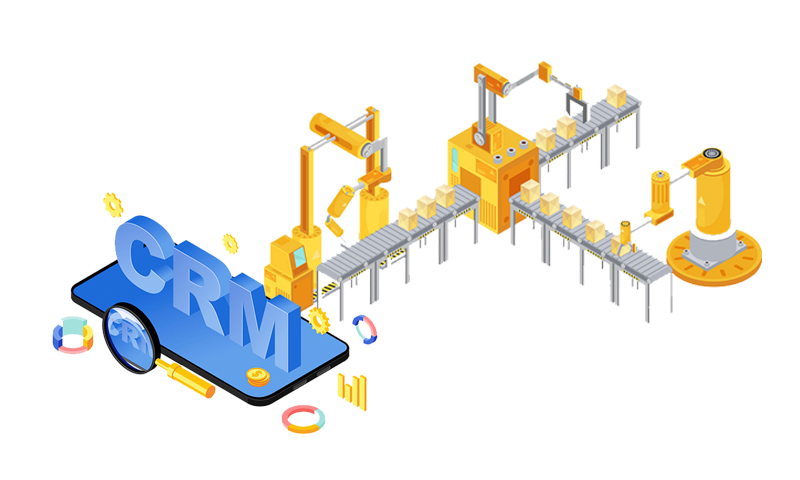 This pandemic season has affected almost all industries, and manufacturers are one of the victims of it. It is hard to produce new products and create innovative ideas as the world struggles to manage financial dealings. In this situation, it is difficult to find potential customers, and it is one of the main challenge businesses faces during this pandemic crisis. Here we considered three challenges and how sales CRM software helps you turn challenges into business opportunities in manufacturing businesses.
The three main challenges are:
Accessing data while working remotely
Traceability of sales and employees
Keeping 360-degree overview of business
Accessing data while working remotely
To keep the virus at the bay, businesses need to practise social distancing and all companies are forced to provide remote working facilities to their employees. Remote working needs access to business data but many businesses lack a sustainable business infrastructure to support remote workforce with adequate information. It demands the physical presence of employees' onsite to ensure data security and keep the confidentiality of the information. But in the wake of this pandemic crisis, it is no longer a practical thing.
A cloud-based sales tracking software solution enables your work team to access all essential business information from anywhere at any time. It will help you manage business functions systematically during this pandemic time even if your office space is empty. It allows employees to share and view business information without affecting the credibility of information.
Traceability of sales and employees
Whether it is pandemic or not, the manufacturing industry faces problems in product and employee tracking. In this crisis, manufacturers need to emphasize tracking of products in transit to maintain healthy customer relationships. The early detection of problems related to distribution management is essential to keep the credibility of your brand name. Same as this, employee tracking is also beneficial for your business industry. You can monitor the field force and the workflow. Then can find where you need more attention to grow your business.
Sales tracking software can help you deal with these problems immediately by providing tracking features. Cloud-based sales CRM software integrates data from various sales activities such as order placement, inventory, distribution management, etc. give end-to-end visibility to the sales cycle. That means you can immediately track orders in transit, delivery status, delays in delivery channels, and other operations from any part of the world. You can track employees from anywhere using GPS location tracking, and it also can bring transparency to the sales cycle.
Keeping 360-degree overview of business
Due to this pandemic crisis, some employees are provided by remote works and others at the office for production works. In this case, many companies lack perfect collaboration and coordination among employees. Hence having a complete view of business operations becomes unattainable.
The right sales management CRM for the manufacturing industry enables you to bring all business functions to a unified platform for the easy management of sales activities. With the help of features like instant reporting, data accessibility, automating repetitive tasks, auto-notifications, reminders, and many others, you can keep connected with your entire workforce. Have a quick and effective 360- degree overview of your company activities and gain insights in real-time for making better business decisions.
It is high time to think of solutions to tackle down pandemic crisis if you haven't implemented any software solution for your manufacturing industry. CRM solutions are the best option for you to overcome challenges at this time. Its single location data management, employee tracking features, task automation, and many other features support you to keep up the workflow without getting affected. Get customizable sales CRM software, stay competitive in the market. For sure, the pandemic has nothing to do with your organization if you properly implemented CRM solutions in your business.