Request Demo
Drop us your details we will get back to you soon!
Get the most out of your field force with Fastfokuz!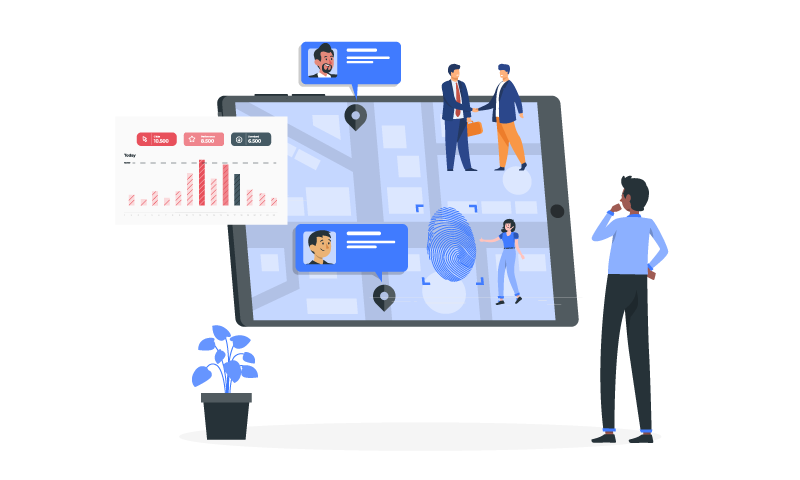 How to increase field force productivity? The most asked question by business industries, especially the FMCG sector. It is difficult to expect the best result from the field force if you are managing the business industry using traditional business methods. This issue can be easily addressed with the best usage of field service CRM software. This modern business tool is customizable and offers plenty of features to empower your sales teams and increase productivity. Get their attendance on time, automate business reports, and track the entire sales processes and employee performance within a few clicks using field service CRM software.
Fastfokuz, the effective field force tracking software, unites sales managers and field executives, connecting web dashboards and mobile CRM software. The sales managers can monitor and control field employees using the web dashboard, and the sales executives can share valuable insights through mobile CRM software. Want to hear more about how field employee tracking software increases field force efficiency? Here we go!
Fastfokuz makes sure that your field force is on time at the field sales!
Make sure that your employees are punctual in their duties by checking their attendance status through the web dashboard. The field employees can mark their attendance using mobile CRM just before the start of the work. Send notifications and reminders to keep them proactive in their duties till they sign off for the day.
Fastfokuz helps pre-plans activities and sales routes for the field force!
Field force tracking software helps sales managers to plan sales tasks for the sales executives to systematize the sales pipeline. Same as this, sales managers can provide sales routes to the executives to achieve maximum sales in one go. The sales executives can also share more productive sales routes if they find any on their sales journey. Sales managers and sales executives can communicate on sales dealings at anytime from anywhere for better clarity.
Fastfokuz boosts your field sales executives' efficiency!
Fastfokuz helps businesses to organize sales functions in many ways. It provides a single data repository to manage business and customer data flawlessly. Hence the field executives can seamlessly sell their products and convince customers with the strong support of business data. Also, field rep tracking software ensures the quickest means of expense claim. The executives can capture the cash receipts and share them with managers for fast financial dealings. Sharing order details, stock and inventory statuses, etc. support field executives to streamline FMCG sales for enhanced productivity.
Fastfokuz ensures accuracy in business reports!
FMCG sales app produces accurate business reports analyzing the day-to-day sales and sales pipeline activities. CRM generated business reports include employee performance reports, stock, and inventory reports, etc. ensure that the content is error-free as it is generated based on the business performance. Concerning the reports, sales managers can make suitable decisions to empower employees and support business growth.
Fastfokuz monitors employee location and distance to be covered!
Fastfokuz, the field sales tracking app, monitors field employee productivity by location tracking. Sales managers can track executives' locations connecting with them using the GPS location and control field workflow for the smooth functioning of the sales pipeline. By tracking, sales managers can measure the time spent on each task and plan incentives and other benefits for the best employees.
Implementing employee supporting business tools like Fastfokuz helps you for the fast acquisition of business goals. Planning sales tasks and sales routes support executives to organize sales functions systematized. All the features of Fastfokuz enable businesses to keep a balanced work culture for their employees to increase their efficiency in coordinating the sales processes. Fastfokuz's single platform data management, instant business reports, location tracking features, etc. can empower field forces to produce better outcomes keeping all the enthusiasm and energy for their professional life.