Request Demo
Drop us your details we will get back to you soon!
How is Sales CRM beneficial for small Businesses?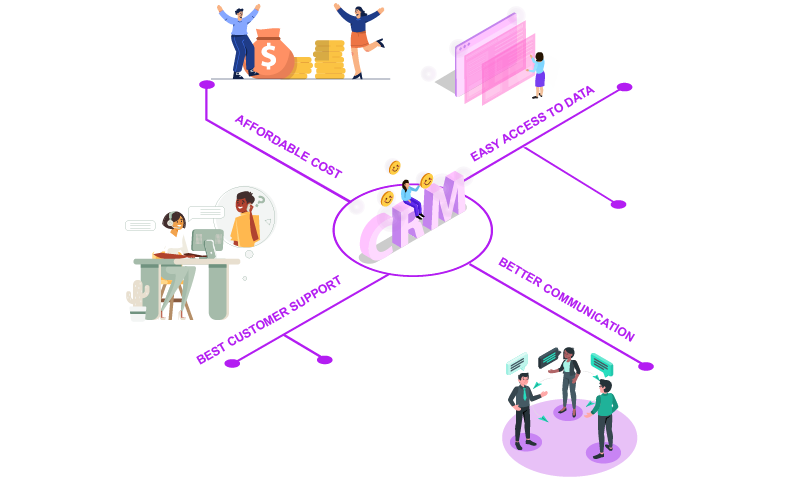 The small business industry has to maintain a healthy relationship with customers as they are the key to business success. Sales management CRM software is highly beneficial for small businesses as it automates businesses activities to produce the best and foremost result in a business. It is a potential business tool for small businesses as it records customer interactions in the cloud. Also, it manages all business data in one place that enhances business operations effectively. Besides these, sales management CRM software helps you manage the sales and distribution channels from the beginning to the end. It is vital to understand the benefits of essential sales CRM software.
Better communication
It is necessary to maintain better communication among teammates for the successful completion of business tasks. For that, it is mandatory to have complete knowledge about your customers. Sales CRM software stores details of the customer interactions in the cloud. Any time access to these customer interactions and their requirements helps your executives to make smooth customer communication. Also, they can offer personalized services to maintain the relationships, and hence you can enhance customer experience.
Easy access to data
Sales CRM software stores data in one place, and it is highly beneficial for you if your business operations involve remote works and field sales. Sales CRM helps executives to access data from anywhere at any time for the processing of business tasks. During this pandemic season, it is helpful for you if your employees work remotely. They can access all necessary data using any device connected to the internet. This feature assists you complete business assignments under every circumstance.
Best customer support
Retaining customer relationships is vital for small-scale businesses, and sales CRM software helps you maintain a customer-centric approach in your business. It allows you to respond to customer queries immediately by referring to the customer interaction history saved at the central database. It also allows sales executives to solve the problems of customers by tracking and connecting with them. On-time serving of customers with accurate services increases the level of customer satisfaction and customer engagement.
Affordable cost
Fund management is a crucial part of every small business. When comparing with any other business tool, cloud-based sales tracking CRM software is the best option for you as it is cost-effective and easy to implement. Many of the CRM services like Salesfokuz charge based on the number of subscriptions or licenses, and you only need to pay only for those licenses. So it doesn't matter how big your organization is, you can avail of CRM service within your affordable budget.
Generate more leads
Another benefit of using sales tracking CRM software is its ability to manage the leads on time. Sales tracking CRM help you capture each lead from various platforms immediately to the cloud. Then your sales representatives can organize leads for finding the most profitable leads through proper follow-ups and analysis. You can offer personalized services to make them the most valuable customer of you.
Due to the high competition, small-scale businesses need to scale up their business activities to survive in the corresponding business industry. Implementing sales tracking CRM software is the most suitable way to get your business organized. Access to business data in one place, location tracking, and easy capturing of leads help small businesses to stand as best in the industry. Select the best sales lead management software for your organization and start to experiencing the positive change.