Request Demo
Drop us your details we will get back to you soon!
How To Reduce Operational Cost with An Effective Inventory Management System?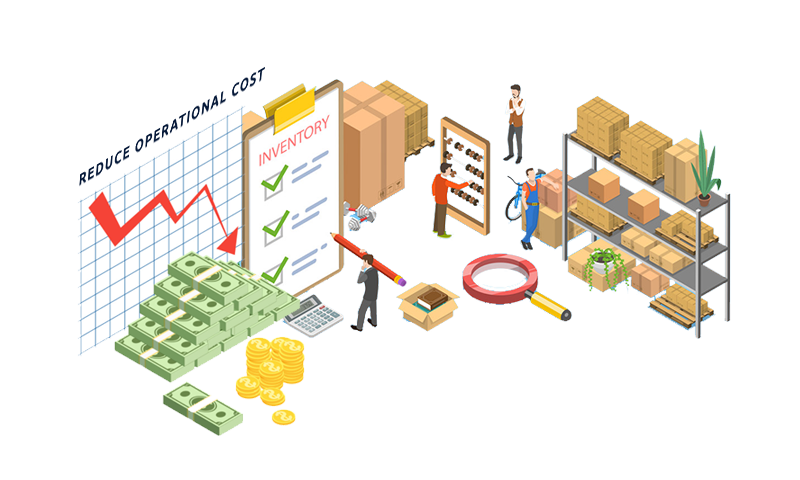 The effective management of stock and inventory plays an important role in the growth of a business. You need to provide high importance to keep your inventory system without any shortages as it directly impacts sales and productions. If you encounter a shortage in inventory, your entire sales cycle will be affected, and that may leave customers unsatisfied. It also slows down production, and that causes unnecessary delays in the entire business cycle. Implementing effective sales tracking software can help you manage your stock and inventory system up to date for better business execution. First of all, let's understand the common difficulties that can be happen within a traditional inventory management system.
Obstacles in a traditional inventory management system
Unwanted delays in sales and productions
Mismanaged item transactions
Disorganized item transaction cycle
Barriers in business communication and team collaboration
Benefits of using inventory management system
Real time tracking and management
The inventory management system provides a real-time tracking facility to keep track of the stock and inventory that will help you make sure that you have steadiness in stock inflow. Your inventory managing executives can update the stock states instantly to the system, and managers can take quick and effective actions to maintain the stock inflow.
Cost effective
The proper and fixed inventory management software helps you manage the operational cost more effectively. Tracking and connecting to the stock inflow help executives to maintain the warehouse stocks as per your requirements. It helps you reduce overstocking of the products and also helps you escape from running out of stock. Both overstocking and running out of stock and inventory causes unnecessary operational cost.
Increased efficiency
Inventory management software keeps the stock inflow without affected, and that will help increase production and sales. By automating the sales activities, your team members can be free from recording and managing the stock details using papers and files as they can update inventory statues digitally to the system. It reduces tedious tasks of data entry and recording stock details manually. All this will be affected in the improved sales and productivity.
Improved team collaboration
Automation of inventory management system helps you make reliable collaboration among team members by sharing required data on time. The stock management team members can instantly update the statuses of inventory from their devices to the central database. This data can be assessable for the other team members from anywhere at any time. Instant data sharing helps employees to take quick and effective actions for further business developments.
A flexible and scalable stock and inventory management system can help you streamline the business by systematizing the business cycle. Managing the stock is helpful for you seamlessly organize the production and distribution of products. It ensures effective business communication in time and also promotes effective collaboration among team members. Best inventory management system completely automates stock and inventory system, and hence you can effectively manage operational costs. Accuracy in stock details and stock transactions helps organizations to be free from errors and task duplications. Get effective stock management software and control stock and inventory in a better way.