Request Demo
Drop us your details we will get back to you soon!
How can Sales Management Software help me grow my business?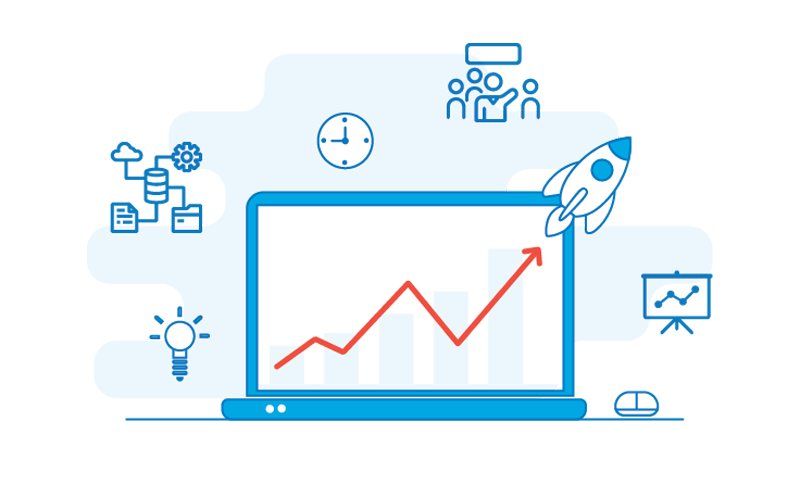 Sales management CRM software help businesses to grow by systematizing the entire business operations. It helps organizations to build a trustworthy relationship between customers offering them custom-made services. Sales management CRM software promotes customer-centric approaches from the very beginning and coordinates all sales functions from order management to the distribution of products and customer feedback collections. Apart from these, sales tracking CRM software can help you in various ways to grow your business.
Benefits of using sales management software
Centralized data
Sales tracking CRM software can help you manage customer information and business data in one place, and that can be accessible for all employees in an office. It is highly beneficial for you if your business operations involve field sales and remote works. People working from remote regions can seamlessly access all required information instantly and can coordinate with teammates from far away to enhance better productivity.
Sales management
Sales management CRM software helps you organize the sales cycle and streamline business operations in a sales pipeline. Automation of business tasks that includes order placement, product distribution, feedback collection, data management, and many more speeds up business activities and thus will result in improved performances.
Team collaboration
In many cases, completion of business tasks involves the collaboration of many activities at a time. It creates complexities while we are operating businesses using traditional methods. You can solve this scenario by using online sales tracking software. The availability of business data in one place helps all employees to view the status of business projects instantly on their devices and they can coordinate for producing a better outcome in less time.
Accurate business reports
Sales management software is good at generating business reports instantly, and that is accurate and error-free. You can use these reports in many ways to analyze and improve the functions of the business. With the help of this, you can find where the business encounters difficulties in maintaining workflow and which areas need more care and support. In this way, you can reduce unnecessary operational costs and can save more productive time.
Excellent customer experience
Customer satisfaction is one of the main things that we need to consider as a top priority. Sales tracking CRM software offers customer-centric approaches, and hence you can easily achieve it. With the help of this CRM software, you can find customer's preferences and interests by accessing the updated customer information recorded in the central database. You can use this data for offering personalized services, and hence can build a strong bond between the customers.
Implementing a sales tracking CRM software is highly beneficial for you as it takes your business to the next level. Centralized data management, team collaboration, accurate business reports, enhanced customer experience are some of the main advantages of using sales CRM software. All these features help you organize your business functions systematically to achieve more effective and profitable business opportunities. The systematized approaches to business help you to stay ahead of the competitors in the corresponding industry.