Request Demo
Drop us your details we will get back to you soon!
Accelerate Real Estate Business and Sales with Real Estate CRM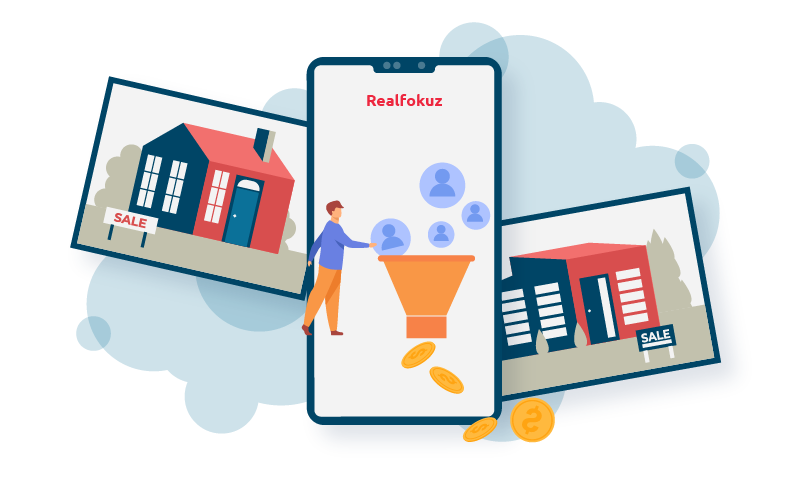 The real estate industry business is a fast-growing business sector, and therefore experiences high competition. This industry seems to be dynamic and flexible, and realtors started to adopt digital sales models to serve customer preferences. Implementing real estate CRM software is a well-equipped online sales strategy that helps automate business functions to boost sales and productivity.
CRM software aims to understand customer preferences and help businesses to serve them with utmost care. Real estate CRM software is an industry-specific solution that understands, track and find a better solution to address the customers in less time. Lead generation, managing properties, managing sales agents, and site visit operations can perform in real-time with real estate CRM. Apart from these, real estate CRM software provides many essential features for realtors and brokers. It provides unified solutions and here describes how it helps boost sales in the real estate industry.
Effective lead capturing
It's difficult to achieve more sales and leads if you are following traditional business methods. You need to conduct many marketing campaigns through various online and offline platforms to attract leads. There remains a chance to miss out on profitable prospects due to the unorganized system. Real estate CRM software helps realtors to capture leads from multiple platforms instantly. You will get all leads in one place, and you can assign leads for the suitable sales agents for completing other business performances.
Mobile CRM software
Top CRM for real estate agents and brokers provides flexibility for managing the workflow. Real estate CRM system ensures this flexibility with the support of mobile CRM software. With the help of mobile CRM software, you can assist your field sales teams, property managers, agents, and real estate brokers. Using its features, they can respond to the client from anywhere at any time. Also, your team members can collaborate on any business task irrespective of the location, and a mobile CRM incorporates all of the features that are present on the website.
Activity planner
CRM software for realtors helps businesses manage and organize daily activities systematically to achieve more sales and productivity. With the help of CRM software, managers can plan daily activities and assign them to the representatives based on the task priorities. The system also sends auto-notifications and reminders for executing business tasks such as client meetings and customer interactions without any fail. The GPS tracking feature of the CRM system helps managers to support and control executives in real-time. It ensures that everything under the sales funnels getting progressing in the right direction, and hence you can manage the workflow.
Project management
Real estate CRM system help realtors to categorize each business project at the centralized system. It can be assessable at any time so the executives can smoothly manage the client and customer interactions.
Implementing real estate CRM software is highly beneficial for realtors as it can improve sales and productivity. Its advanced features allow you to coordinate all the business functions in one place that enhances business performance. Get fully-featured CRM software to capture leads effectively, maintain follow-ups on time and efficiently control the entire activities in real-time.